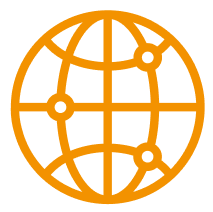 Network connectivity
Control the life cycle of your IT infrastructure from deployment to operation! QUANT is at the very heart of your digital transformation. Our versatile team shares a common philosophy, namely: to take an innovative approach and to cross unexplored boundaries with you.
What are your short, medium and long-term objectives? Our advisors analyse your request and guide you openly towards the solution that is best suited to your public or private infrastructure. Our certified engineers make it a point of honour to follow your project down to the smallest detail and to remain flexible in line with your request.
Our approach is agile, dynamic and pragmatic.
Trust a local company with a 360-degree vision of your sector!
… based on zero trust model
The security of your IT network is paramount!
Think of it as a fortified castle with ramparts, moats, loopholes, … Various protection systems must protect it from external threats... And not only! What would happen if, unbeknownst to you, an insidious and malicious inhabitant was already inside your castle? 
The zero trust principle is based on the assumption that we cannot trust anyone. Your network must be protected from the outside in, but also from internal attacks. To that end, our solutions enable you to check the behaviour of each user and of each connected device based on an authorised authentication. Depending on their activities, they can gain or retain access to various applications and data.
It is a permanent protection model divided into 3 main phases:
The identification process: users and devices are authenticated based on 802.1X or through other techniques such as MPSK, Captive Portal...
The attribution of a "role": each user or device will be attributed specific rights in the network. The user will have (or not have) access to certain applications, will be able to communicate (or not communicate) with other devices in the network or in the same segment, etc. These authorisations can be adjusted according to the day or the time. It is, for example, quite possible to "block" access to the network on weekends.


The cherry on the cake is that the associated identity is independent of the location of the user or the connected device. Teleworking therefore does not hinder the process in any way.

Permanent protection: have any anomalies been detected on the network? Violations are automatically stopped and the consequences are severely limited.
What are the advantages of successful network connectivity and integration?
The network is now the sun around which your communication architecture revolves. Our goal? Building a high-performance and secure environment through the development of your infrastructure via private, public or hybrid clouds. 
You must keep up with the fast pace of hyperconnectivity: your network supports the development of your business. 
The advantages for you:
Control your direct and indirect costs during the project and its operation

Make strategic decisions at the right time and steer your business with a firm hand

Optimise the productivity of your employees

Collect valuable data with high added value for your marketing

Secure your IT system from A to Z
QUANT also offers you an "As a Service" model! Get a high-performance network monitored H24. It is time to build and future-proof your IT infrastructure.